CHECK IT OUT!  Todd and Mr Myers Band's new Double Live Album
"Live At Last 3" - 40 Year Anniversary Live at Nellie's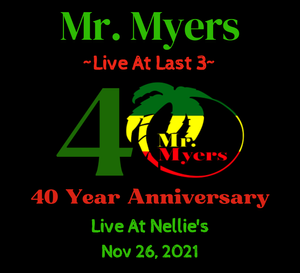 Now available on ITunes, Amazon, Spotify, Google Play Music, Pandora, Apple Music and more!
CDs are now available by mail order-
Click HERE to order your copy!
Also be sure to check out Todd's solo album "Warm Weather Music" and his revolutionary recording
Previous events
I'm doing both Thursday and Friday nights on the patio- come on out it's always summer at The Breeze!
One more "Tropical Thursday" to close out October- it's still toasty warm on the patio! I play from 7 to 10, come on out for some authentic Island food and drink!
Dylan's home and will be joining me for a bonfire beach party at The Beer Garden- this is a fun place! We play from 6:30 to 8pm so come early and stay late!
Todd Donnelly - Steel Drums, Percussion and Vocals
 Todd Donnelly is a singer/songwriter that plays steel pans and percussion. He has been playing music since childhood, when he was fortunate to visit Florida and the Caribbean frequently. Todd developed a deep interest in Caribbean music, which led him to the Steel Band program at Northern Illinois University in Dekalb, IL. While there, he started the band Mr. Myers in 1981. Mr. Myers is now in its 40th year of performing in the Midwest, and also occasionally plays in Las Vegas, Florida and the Caribbean. Todd has written many original songs that are featured in several Mr. Myers recordings. He also has 2 solo projects, "Warm Weather Music", which is a  collection of calypso and folk songs geared towards children, and "Healing Steel Drums Volume 1", a beautiful recording of pure steel drums and surf sounds. Two singles, "Goin' To Paradise" and Modern Day Pirates" were released in June of 2015 and Todd's solo album "Tropical Existence" in 2017. Todd currently resides outside Chicago, IL and plays year round doing solo engagements and working with Mr. Myers.